Flyrite Choppers
Published Monday, January 23, 2006 by hogbiker |
E-mail this post


---
Coming from: Flyrite Choppers
Flyrite Choppers: Traditional Bobbers & Choppers, a licensed manufacturer, listed in NADA & Kelley Blue Book . We love motorcycles. We love building motorcycles. We ride what we build. We realize that not everyone can afford $30K+ for a custom bike, or, $20k+ for a stock one. We build bikes the way they used to be: basic, bare bones, wrench-on-it-yourself-real for the real motorcycle rider. We have basic principles that we adhere to when building a bike. We use 1" tubing, our frames are made in-house. We use springer front ends. The largest tire we will offer is a 180mm x 16". No long bikes here. No twin cam engines. Four models are currently available with options to make one of them the bike you're dreaming of. Custom? You want a bike that nobody else has? All of our bikes are a little bit different, but if you want a true "one off" frame, we can do that as well. Pricing is not the same as our production models, but we believe we can give you the most for your money in the custom frame world.
2006 FRC Bobber: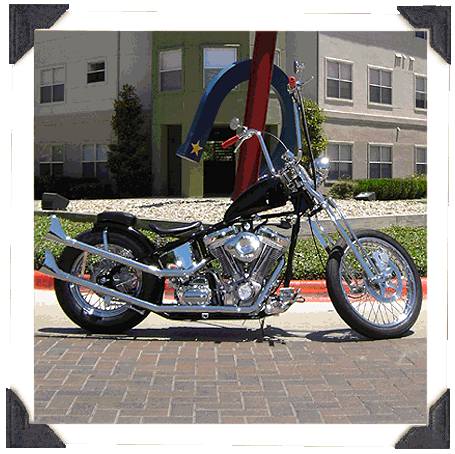 2006 FRC Reach for the Sky
2006 FRC Outlaws Ruin
2006 FRC High Noon
Need more: Search Flyrite Choppers on
Google
.
Read
more
.